Renaissance Roofing, Inc. was contracted to restore back to its original luster, a full copper roof system including gutters and downspouts in Kenosha, WI after a severe thunderstorm packing extreme winds tore the original roofing system partially off the residence.
This storm system was strong enough to uproot entire trees from the ground and cause significant damage to Kenosha and the immediate surrounding area. Many tile, slate and architectural sheet metal roofing systems were affected due to this storm.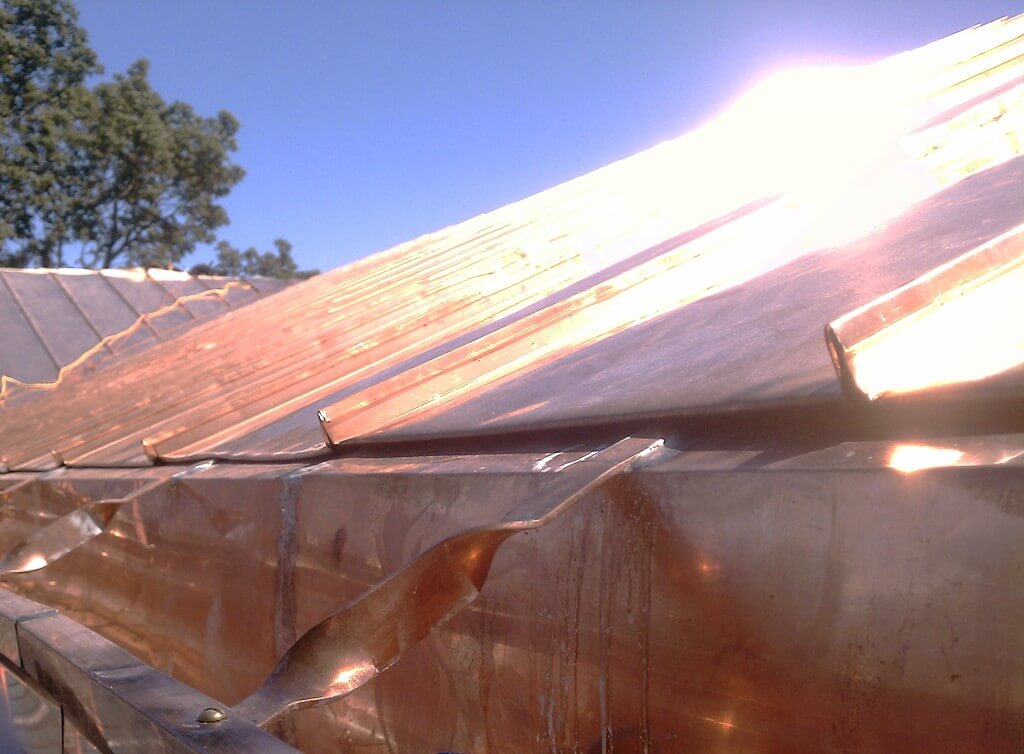 Our contract included all facets of this copper roofing system. Due to the heavy damage, we would completely remove the entire roof and gutter system down to the wooden deck and start anew. We would replace all wood decking damaged by the storm, replace all the underlayments with new felt and Ice and Water Shield.
For the traditional double lock 16-ounce copper standing seam panels, our copper roofing specialists would bring our roll forming machine to the jobsite and custom roll each panel per the original roof's size, layout and design. These panels were installed on all the pitched portions of roofing system.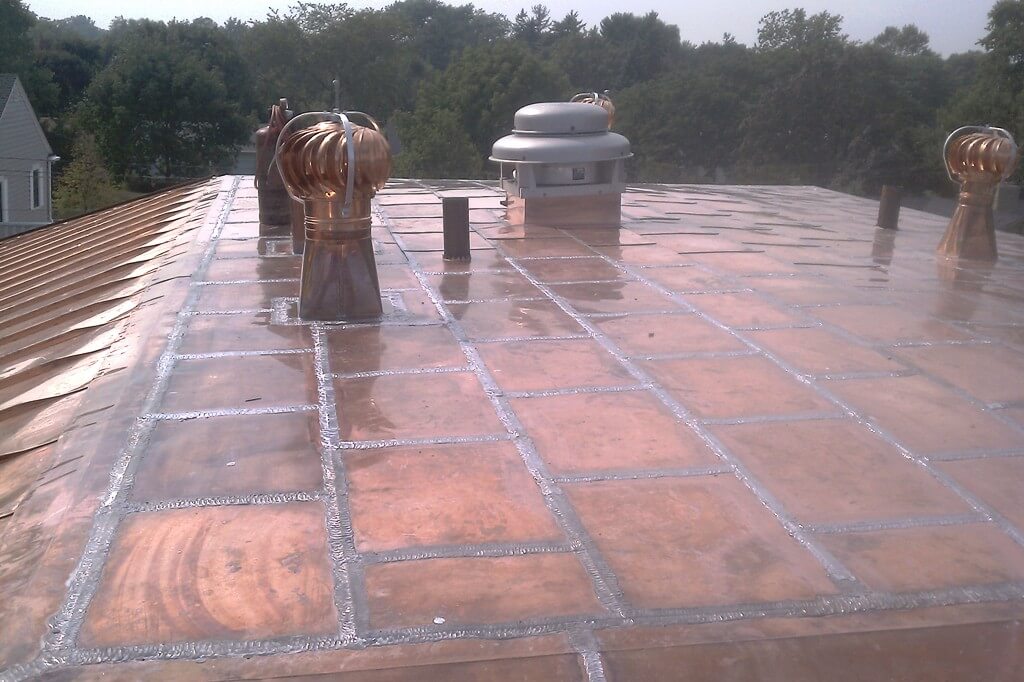 The flat roof portion of the Kenosha residence consisted of approximately 150 16-ounce copper flat interlocking panels. These panels were pre-tinned in our sheet metal fabrication shop in Belvidere, IL in advance, brought to the job site and installed onto the flat roof. These panels were interlocked together, hammered to fit and ultimately fully soldered together to ensure a watertight bond over the entire roofing system.
Our sheet metal craftsman follows the recommendations for copper roofing by the Copper Development Association and Revere Copper's, Copper and Common-Sense Guide.
To complete this custom copper roofing system, Renaissance Roofing, Inc. installed new 16-ounce custom high back gutters to match the original gutters (pre-storm) using our custom fabricated heavy-duty gutter hangers, 3 x 4 corrugated downspouts, copper spinner vents on the flat roof as well as all flashing details (valleys, hips, ridges, chimney flashings, etc.).