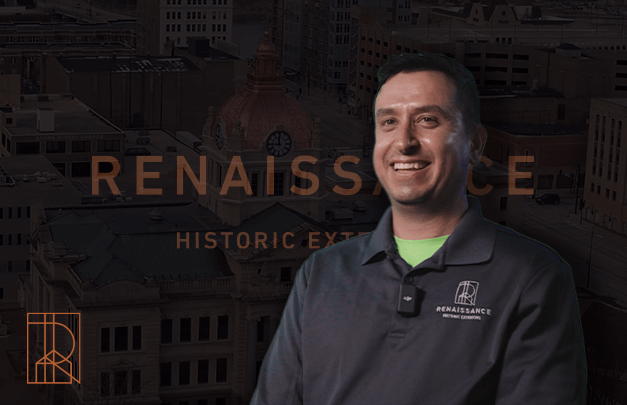 Renaissance Foreman Roger Guerra knows the value of working as part of a dedicated team of craftspeople to successfully restore historic structures. Roger started with Renaissance as a shingler and has grown and developed skills not just as a restoration technician, but as a true leader who understands the importance of communication and collaboration on the jobsite.
His passion for learning is surpassed only by his love of his craft, which is part of the reason why we wanted to chat with him about how he got into the historic restoration industry, and what makes Renaissance unique in this industry.
How long have you been with renaissance, and what kind of work do you do as a foreman?
I've been with Renaissance for 11 years. As a foreman, my primary responsibilities are to help support our various restoration teams by ensuring our craftspeople have the resources they need to complete the job on time, and to facilitate a safe working environment for our technicians and for the property we're restoring. Essentially, my role is to support our restoration specialists so that the property owner receives the highest quality restoration.
What made you want to pursue a career with renaissance?
One of the things that made me want to join Renaissance was the training they provided — the continued education and opportunities to refine my skills. They were also working with such a variety of restoration materials and techniques, which was very exciting to me. You learn something new every day at Renaissance — in fact, if you're not learning something new every day, I think you're doing something wrong.
What makes working on historic restoration projects as part of the renaissance team so rewarding?
Each job is so different — no two restoration projects are alike, which really pushes you to be as well-rounded a restoration technician as possible. One project may require you to work more closely with historic carpentry or roofing, and another project may require more work with architectural sheet metal. The variety of projects I get to work on is really what makes my work such a rewarding experience.
Tell us about one of the most unique projects you have worked on.
There are definitely a few, but the one that jumps to mind first is the Wyoming State Capitol building. It was one of the first jobs where I worked with a roofing material other than slate tile. The restoration required work with stainless steel, and the dome of the building required a pretty substantial copper restoration. It was a really fun project that took a lot of careful craftsmanship in order to restore the building to how it originally looked.
what has been your proudest professional moment with renaissance?
I think it's each time someone calls me "foreman." Honestly, I feel really proud whenever someone compliments me on the work we've done. It's just so great to hear.
it's time for our speed round of questions, roger. What is the best sandwich?
Torta Milanesa.
What is the most used app on your phone?
The Weather Channel.
What is your favorite season of the year and why?
Summer. It's warm, you can be outside, and you don't need layers and layers of clothing like you sometimes do in the colder months.
What did you want to be when you were 8 years old?
An architect.
Thank you so much to Roger for taking a few minutes to chat with us about how he crafted a career with Renaissance.
Curious about how you can craft your own career as part of Renaissance Historic Exteriors? Learn more about our current career opportunities and use your skills to help restore and preserve historic buildings for decades to come.