Historic slate roof restoration is a multi-faceted specialty that requires the desire for lifelong learning and the drive to acquire and hone a variety of skills and techniques. There is much to know about the kinds of applications, materials, and technology slate roof restoration specialists encounter in helping to facilitate commercial and residential restoration with the utmost quality and historical integrity.
With more than 30 years of experience in slate roof restoration work, we have the field-proven insight to help you better understand this skilled trades career. Here, we'll look at three frequently asked questions about a career in historic slate roof restoration, and how Renaissance Historic Exteriors can help you work on unique, once-in-a-lifetime projects.
What kind of historic structures use roofing slates?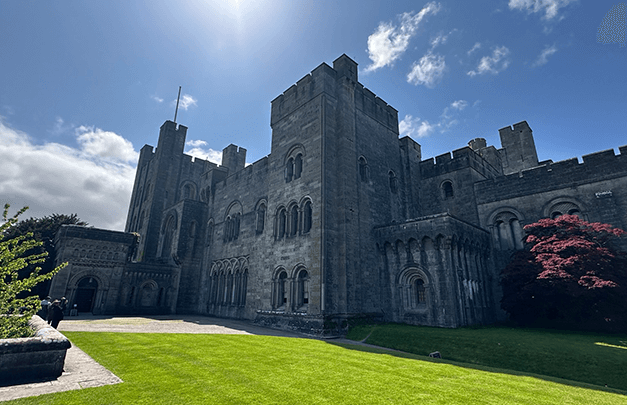 Slate roofs are commonly found in a variety of historic structures including castles, churches, courthouses, universities, and other kinds of landmark buildings. While the techniques and technology have evolved since slate roofs were originally introduced in Europe 700 years ago, the process of quarrying slate for use in the production of roofing is much the same.
As part of the importance we place on professional development, our owner recently had the opportunity to attend the National Federation of Roofing Contractors UK Roofing Awards and tour the historic Penryn Slate Quarry in the North Wales region of the United Kingdom. In addition, the owner toured The National Slate Museum — also located in North Wales — to help deepen his knowledge and appreciation of slate production and use.
Using our state-of-the-art technology and resources, our slate roof restoration technicians have completed thousands of one-of-a-kind slate restoration projects across the United States on a variety of historic structures, many of which still had their original slate tile roof.
St. Peter Catholic Church in Jefferson City, Missouri is just one of many projects where our slate restoration technicians helped turn back the clock on a unique, historic structure.
What kinds of roofs do slate technicians help restore?
There are actually several different styles of slate roofs that are common on historic buildings, some of which include:
Standard slate roofs, where slate tiles are installed in uniformly spaced sections with alternating vertical joints

Random width slate roofs, which are similar to standard slate roofs but they use slate in a variety of widths
Patterned slate roofs, which use different tile colors or shapes to create a design or pattern in the layout of the roof
Textural slate roofs, which use slate tiles of rougher surface texture and thickness to create a visually textured appearance across the entirety of the roof
Graduated slate roofs, which use large thick slates at the eaves with the slates getting thinner and smaller as it 'graduates' toward the ridge.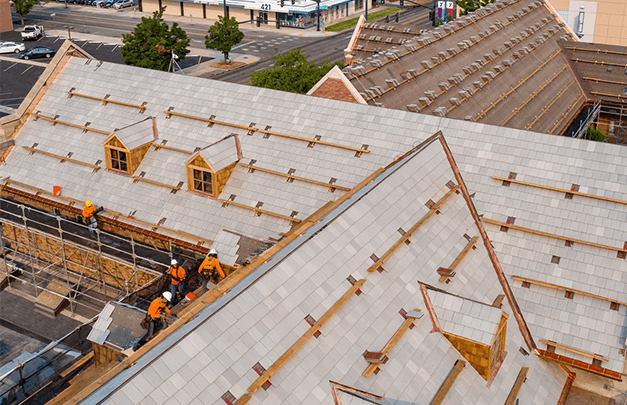 Each style of slate roof requires a slightly different approach to how the slates are handled and installed, and Renaissance's slate roof specialists receive hands-on training in these styles of slate roof restoration and installation to help master slate roofing techniques across a variety of applications.
Plus, to help support our slate technicians and ensure they have the materials to complete a high-quality restoration quickly and efficiently, we maintain a large inventory of Vermont Slate, Pennsylvania Slate, and Buckingham Slate. Our inventory includes both semi-weathering and non-fading colors.
What's more, our membership in the National Slate Association and the Slate Roofing Contractors Association of America demonstrates the quality and breadth of our slate restoration capabilities, and it is also emblematic of how we provide our slate technicians with the tools and training to execute once-in-a-lifetime restorations on structures with a wealth of history and cultural significance.
What kind of experience or training is required to become a slate roof restoration specialist?
First and foremost, a Renaissance slate roof restoration specialist is one who wants to tackle new challenges and learn new skills in service of helping to restore historic buildings to their original glory. Our craftspeople are dedicated industry professionals and are recognized by A number of national organizations for their exceptional skills.
Our slate technicians use their skilled trade experience to coordinate with our other skilled trades and project coordinator to facilitate a historically accurate restoration in accordance with our industry-leading safety program. Our slate restoration specialists are detail-oriented, must have excellent communication and collaboration skills, and they must also be able to think critically and problem solve in the moment.
Because the structural and historical integrity of a roof restoration affects almost every other element of a structure, our slate roof technicians receive exposure to a variety of other historic restoration disciplines including historic carpentry, masonry, gutters and downspouts, architectural sheet metal, and other kinds of historic roofing. This not only makes for a more dynamic work environment, but it also makes our slate specialists more well-rounded in their approach to restoring unique, once-in-a-lifetime projects.
Learn more about our career opportunities and how joining the Renaissance Historic Exteriors team can help put your craftsmanship to work on one-of-a-kind, historic structures.