Hail damage is not typically visible to the eye from the ground. It has been our experience that hail damage requires an inspection on the roof. Having a qualified contractor get on your tile or slate roof will help reveal the hail damage.
Just because you don't see broken roof slates does not mean you don't have damage.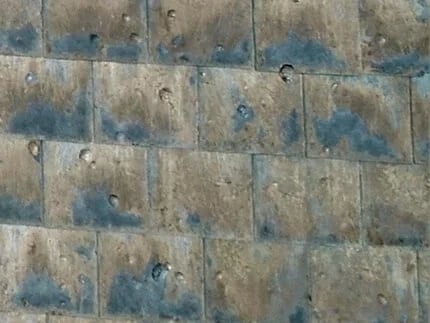 Many times, slate roofs will have "hidden" damage. This damage can include hairline cracks and fractures, breaks, chipped and broken edges of the slate. Because you cannot see this damage, it is always recommended that a highly qualified tile and slate roofing contractor, such as Renaissance Roofing, Inc. carefully and accurately inspects your hail-damaged natural slate roof.
In the photo shown ABOVE, these original early 1900's era Pennsylvania Slates have been "dented" by a hailstorm in the Midwest.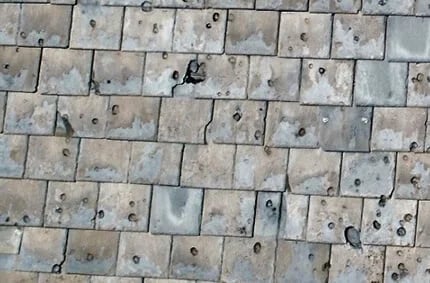 The size and velocity of the hailstones will be a significant factor in the damage being caused to natural slate roofs. Smaller hail typically does little damage to slate. As the size of the hail increases, so does the potential for big damage.
As shown in THE ABOVE photo, a combination of a larger hail and an approximately 100-year-old slate roof sustained significant damage as a result. As you can see, many of these hail impacts punch holes right through the slate.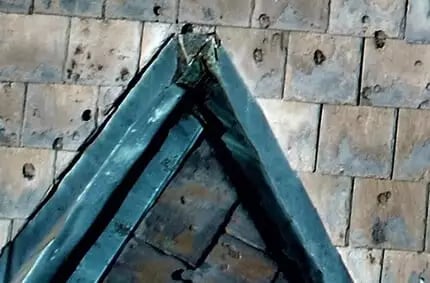 Slate isn't the only product that can be damaged by hail. All copper flashings on a traditional slate roof can sustain heavy damage. These flashings include copper valleys, chimney flashings, and decorative copper hip and ridge flashing.
These copper details can all be dented and bent by hail impacts. As shown in the ABOVE photo, a historic slate roof with decorative copper ridge trim shows significant damage including denting and bowing to the surface of this custom fabricated ridge.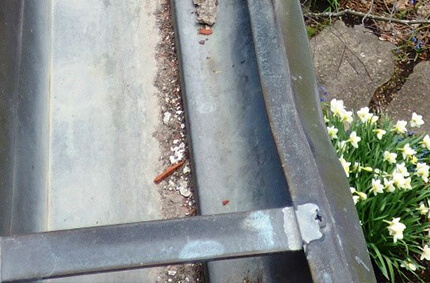 All exterior facets of your home are susceptible to the effects of a significant hail event. Your natural slate roofing, traditional copper flashings and more.
In tHE ABOVE photo, this 16 oz. copper cutter system in Evanston, IL was damaged by large hail impacts. THIS gutter shows signs of circular or rounded impact markings as well as visibly bent areas as a result. Even the gutter hanger shows signs of hail damage.
Other areas of your home include copper dormers, copper flat panel roofs, collector boxes, chimney covers and more. It is also recommended to have your chimney and chimney caps inspected as well.
Much of the damage and the small hail impacts go unnoticed until much further down the road. In the winter cold, the small cracks in the slates will absorb water. When the water expands during the freeze, it will completely crack the slate. This roof begins to shed slate for no apparent reason. The cause is the hail impacts that create the initial damage, allowing water to penetrate.
As a homeowner, if you are looking for a great resource to learn about property damage insurance and the process there is a great website dedicated to helping.
United Policyholders "Empowering the Insured"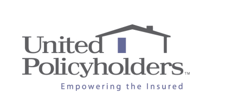 Specifically, learn about the Hail Damage Process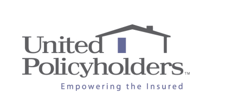 We are a full-service roofing contractor; offering replacement, restoration, repair and service work in Evanston since 1992, we are committed to helping historic homeowners.
Schedule your Hail Damage Roof Inspection today
Please contact your tile, slate and copper roofing system experts today to schedule your appointment for your hail inspection. Our staff will contact you once you have completed the brief feedback form below. We also encourage you to read about our unique Monarch Elite Process. We're certain you'll be happy with your decision to choose Renaissance Roofing, Inc. as your historic roofing contractor.