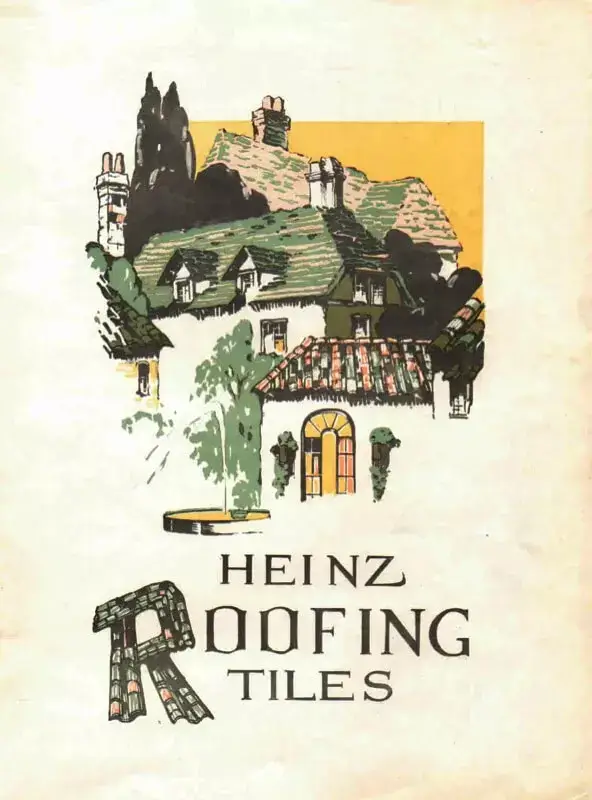 Old England's hallowed roofs, softened in line, warmed in tone, gently mellowed with age are faithfully reproduced in Heinz Old English "Plymouth" Tile.
The delicate color tones are soft and restful—the texture has been produced by skilled craftsmen. And in both coloring and texture Heinz "Plymouth" Tiles closely typify the aged roofs of Old English. On a home of English architecture their mellowed beauty is immediately apparent and will add lasting charm and character to any design. Once you've seen this roof gracing Old English architecture you will surely say it is the creation of an artist—that it is indeed pleasantly different from anything you have ever seen.
The Heinz Company entered the tile field to meet the demand of the architect for roofing tiles that are "true to type". Heinz tiles allows the individual to depart from the ordinary and obtain a roof that is decidedly different and distinctive—a roof that will carry out, to a high degree of accuracy, the beauty and inherent charm of the architectural design.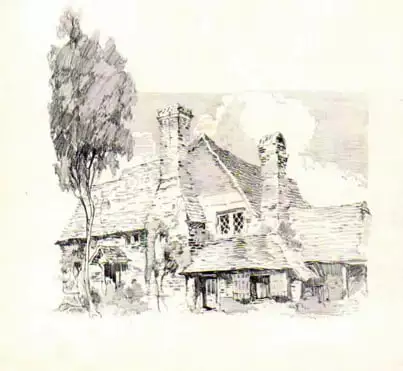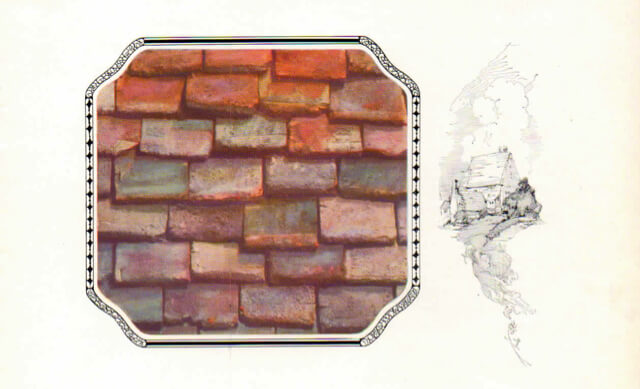 In order to produce tile of this nature we went direct to foreign fields where hundreds of roofs of every design and character could be studied and samples collected. All Heinz tiles, the English, Spanish, Dutch, Dorian and Italian have been worked out with equal fidelity to the genuine antiques of the Old World.
The Heniz "Plymouth" Shingle was produced after an extensive study by out artists and craftsmen of the antique roofing tiles that appeared on fine old manors and country estates in England and northern France. Our men found hundreds of enchanting roofs among these old homes. They were impressed also by the fact that these old roofs, through generations of exposure to the weather, had become endowed with delicacy of coloring and a mellowed texture that had not hitherto been produced in modern tile.
In the aged Old Country tile the colors were subdued and restful and yet of an almost unlimited range—warm hues of burgundy, faint lilacs, dusky purples, grays of bewildering variance, pink, browns, straw yellows, salmon reds—and all these tints and tones had become gently blended into roofs of wonderous beauty.
Abundant samples of these aged tile were brought back and we immediately set out to find methods of faithfully reproducing them. Our first problem was to produce tiles that would not shine for this is an essential characteristic that distinguishes the genuine antiques from the common commercial tiles of today. It was found that this effect could not be obtained with any clays then available. Our search led us out to Colorado where we discovered wonderful Shale clays which possess a unique composition enabling them to be kilned to a high degree of temperature without vitrifaction taking place. It is these remarkable clays that are responsible for the fact that Heinz tiles do not shine.
The softened, time-worn texture of Heniz Tile can not be produced machine operation but is the result of hard work. The surface of each individual tile is first roughened by means of unique patented instrument in the hands of carefully trained craftsmen. Equally dexterous artisans then produce the sanded texture purely by hand operation after which the tiles pass to a third group who create the characteristic rain-beaten appearance by careful handwork. The unique methods employed in producing the time-worn texture of this Old English Tile are known only to a few members of the Heinz Company.
Butts and edges are individually molded by experts who take care that no two tiles are exactly alike. The edges of some, as you will note in the color reproduction,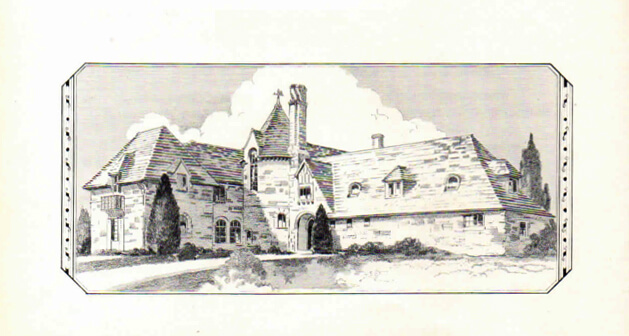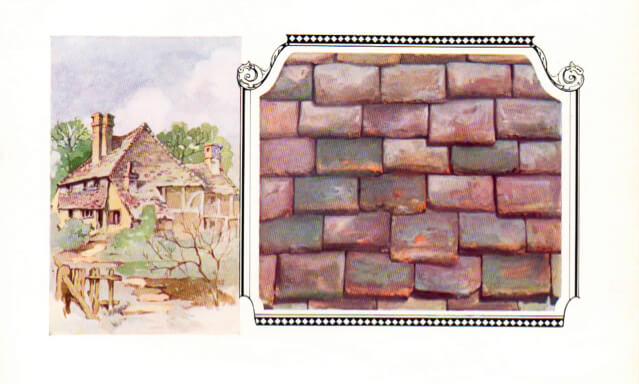 have a gentle ripple, others show various beveled effects. Occasionally a corner has been artfully broken. A certain proportion of the tile have been given a slight camber. Others show the warp and twist that is especially characteristic of Old English Tile.
By long practice our color experts have learned to exact proportions of color which must be given to each shingle. Even the position in which tiles are placed in the kiln will vary the color thru many shades. The lighter color shades are designed to appear near the top of the roof and these should be blended in to darker and more weathered tones near the eaves in order to produce the exact appearance of a genuinely aged roof.
Our "Plymouth" Tiles are produced in fifteen different color groups, and not content with having each tile a single color, our experts have managed to obtain a wide range of subdued and restful tones in each shingle. By observing the color section on page three you will note faint spots of red appearing through the darker shingles, light shades of grays and greens discernible through the reds and smudge blacks, while faint lilacs, maroons, and lavenders, are found in nearly every shingle.
From among these various colors of Heinz Old English "Plymouth" tile, the home owner and his architect can select tile of one or two or three predominant casts of color and by this means produce a roof of the particular tonal quality that best suits his individual desires. As an example of this, the color reproduction on page five shows a pleasing effect obtained by blending our shingles of predominant green and gray. Other delightful harmonies are produced by blending a roof of dark grays, burgundies and lilacs—a roof of straw yellows, browns and smudge blacks or ones of moss greens, browns and purples. In fact, subdues and restful color schemes are almost unlimited.
Because Heinz "Plymouth" Tiles go through the kiln without vitrifying and hence do not shine and also are soft and mellowed in coloring, the home builder is assured that his roof will look obviously new, but from the very start will have all the charm and character of an age-old roof.
Roofs of this Old English Tile have been placed on homes in practically every part of the United States and Canada. There is almost certainly a Heinz tile roof on some fine home near you. We will be glad, upon request, to arrange for you to see one of these roofs. You should, by all means, avail yourself of this for we know that by actually seeing the tiles and observing their rare warmth and beauty, their indescribable coloring and texture, you will get an appreciation of their fine age-old appearance that can come in no other way.