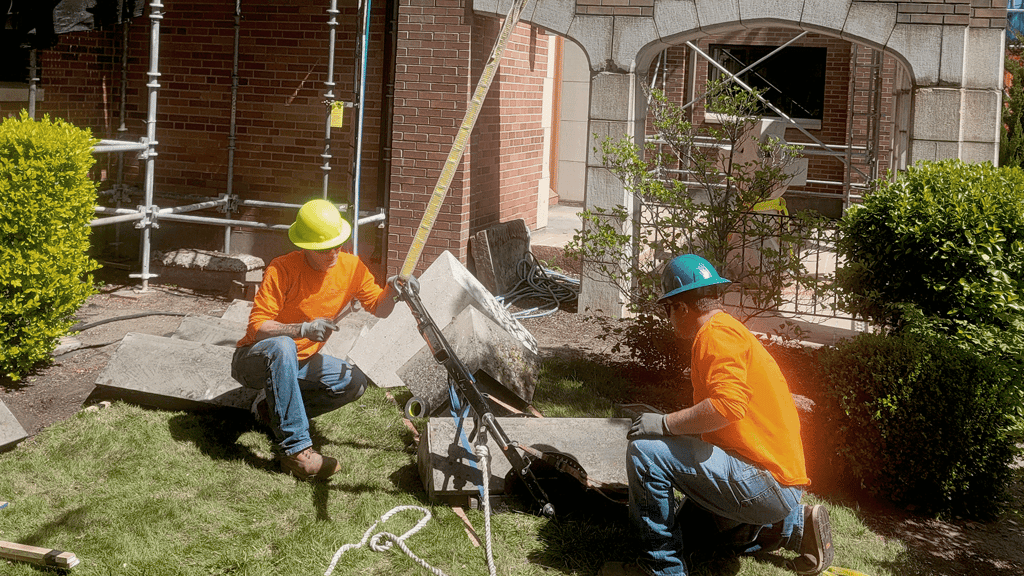 For a craftsman to truly use their skills and experience to the fullest extent, they need the right tools and resources for the job. Without this kind of support, any mastery and talent in a specific trade can only go so far, and a building restoration can only achieve a very defined ceiling of quality and historical integrity.
A field-proven process for assessing a historic structure before restoration work begins not only provides the property owner with a comprehensive overview of the strengths and liabilities of their structure, but it also provides masons, carpenters, and other restoration specialists with a specific roadmap for how their techniques can transform structures to their original glory.
This is where a Renaissance Magellan Building Assessment (MBA) proves to be an invaluable step on the journey toward a superior commercial or residential restoration. Let's briefly look at what an MBA consists of, and how it results in a detail-oriented approach that gives our team a pathway to successfully complete once-in-a-lifetime projects.
what is a magellan building assessment?
The MBA process is guided by the philosophy that what affects one part of a historic structure may very well — and likely does — affect another. The principle that each part of a successful restoration is connected not only makes for better communication and collaboration, but it also creates a more holistic approach to help ensure a historic property is restored with the utmost detail and care.
The MBA is divided into three distinct stages:
An interior assessment of the property that includes a comprehensive inspection of the location of leaks or damage, but also the attic, basement, framing, insulation, and ventilation

An exterior evaluation of roof system components (flashings,

tile/slate

,

underlayment, and more);

masonry elements

such as chimney or walls;

carpentry elements

,

and gutters and downspouts

Use of drone technology to collect critical information from an aerial perspective and identify any potential environmental or safety hazards that could hamper restoration efforts, or cause additional damage in the future.
Each of these stages pulls on the experience, skills, and artistry of each of our restoration teams, and some of the unique resources we have at our disposal to better understand the scale and scope of the job. Some of the resources include our in-house copper studio, which allows us to fabricate custom architectural sheet metal using state-of-the-art equipment for projects like turrets, domes, steeples, clock and bell towers, and more.
For example, our restoration of the Mississippi County Courthouse in Arkansas used our in-house sheet metal fabrication capabilities to completely replace the structure's copper dome in a way that blended modern technique and equipment with the original architectural vision.
how does the mba help our craftsmen work on unique, once-in-a-lifetime projects?
The Renaissance MBA helps our restoration specialists complete detailed, once-in-a-lifetime historic projects in a variety of ways.
First, the MBA helps our expert teams safely and efficiently facilitate work on any given property — the safety of our crew on any job is a top priority, continued dedication to safe restoration processes have earned us recognition from a number of national safety and restoration organizations, and have helped us recruit and retain some of the most talented restoration experts in the industry.
Second, the MBA provides a detailed, thorough overview of the work necessary to restore a historic building, which means our masons, carpenters, roofing specialists, and project managers have end-to-end visibility in terms of how a project is progressing, or opportunities for teams to collaborate to overcome sudden or unexpected challenges.
This level of planning and communication not only facilitates a high quality restoration that will last for decades, but it also helps cultivate a sense of pride and accomplishment from putting superior craftsmanship to work in service of restoring and preserving pieces of history.
Interested in leaving your mark on history? With Renaissance, you can craft a career in historic restoration that puts your talent and know-how to work in the service of something big. Explore our career opportunities and join our growing team of restoration professionals.