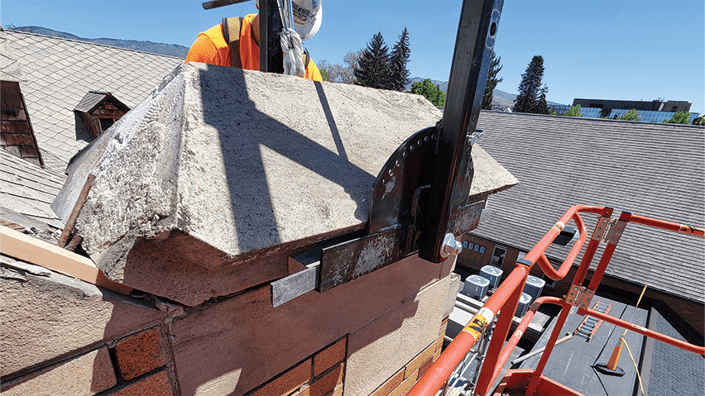 Even for those with some experience in a skilled trade, masonry work can simply mean installing or repairing brickwork on a walkway or the exterior of a residential or commercial property. But more often masonry work – particularly on historic buildings — encompasses many more application techniques and requires a high degree of skill, experience, and craftsmanship.
For starters, masonry doesn't involve just bricks and mortar — it may involve installing, servicing, and restoring a wide variety of materials including stone, marble, and terra cotta, and the applications of these materials can range from small historic homes to large commercial structures.
With this in mind, let's look at the kind of restoration work historic masonry specialists perform, and why considering a career in historic masonry can help you work on unique, once-in-a-lifetime projects.
What kind of work do masonry restoration specialistS do?
While masonry restoration professionals do specialize in restoring chimneys, their scope of work extends far beyond that and includes a variety of property exteriors and roofing work that affects a structure as a whole.
What's more, masonry restoration technicians install and help fabricate custom components like chimney flashing, chimney caps, terracotta flue liners, stainless-steel flue liners, terminations caps for gas ventilation, parapet wall caps, ceramic caps, coping stones, terracotta components, through-flashings, historic mortar blends, brick refacing, block work, and more to help prevent roofing leaks that can damage other parts of a historic structure.
With chimneys, masonry specialists time-tested methods and skilled craftsmanship to execute detailed work on:
Chimney step flashing and counterflashing to create watertight seals between the chimney and roof shingles or tiles
Chimney crowns, which secure the entire chimney structure from water or weather damage that could compromise the chimney
Chimney caps, which are vital in protecting the flue from water and other moisture buildup that can damage the interior and exterior of the chimney
Chimney waterproofing to help protect the entire chimney from water damage that can result in broken, cracked, and chipped bricks or other masonry components
But masonry restoration specialists also help restore the brick or stone exteriors of a structure through repointing work, which is an extremely detailed process of installation or restoration of mortar joints between brick or stone slabs.
Not only does repointing help prevent moisture or other hazardous particles from penetrating a brick exterior, but it also helps preserve the aesthetics of a structure.
Another important element to historic masonry work is the restoration and replication of architectural terracotta.
A common material found in historic structures, architectural terracotta is a mixture of clay and water that, over long periods of time, can deteriorate due to environmental conditions like sunlight, wind, mold growth and water intrusion. Historic masonry specialists use a variety of techniques and modern technology to restore original terracotta, or recreate custom replacements that maintain the historic integrity of the structure.
Part of what makes a career in historic masonry so unique and interesting is how masonry impacts almost every other aspect of a restoration project.
Not only does the connectedness of historic masonry help expose you to other restoration areas like historic carpentry or historic roofing, but it also requires superior precision and attention-to-detail, both of which can make for a challenging and rewarding career.
Why pursue a career in historic masonry?
Historic masonry specialists have the opportunity to help restore a wide range of historic structures, from private homes to courthouses, churches, and buildings on college or university campuses. Plus, with a successful restoration, you have the satisfaction and pride of knowing that your craftsmanship helped to ensure a historic building will last for generations to come.
Our historic masonry team has had the opportunity to restore a variety of properties across the United States — for example, this private residence in the St. Louis area required the fabrication of custom chimney flashing, and this historic church in Missouri needed custom masonry work in a variety of areas in order to restore the building to its original state.
Renaissance Historic Exteriors also gives skilled tradespeople the ability to hone and develop their skills in a hands-on way that demonstrates the power of teamwork and collaboration. The Renaissance leadership team is dedicated to mentoring our restoration technicians across a variety of specialties to master their craft and demonstrate that competency on each and every project we undertake.
What's more, our nationally-recognized safety program ensures a safe working environment that protects our employees and the historic structures we're restoring from costly accidents.
Renaissance is hiring and we want you to join our growing team of restoration specialists. Learn more about our career opportunities and how you can use your skills and experience to help preserve a part of history.