The ability to fabricate custom pieces of architectural sheet metal in-house is a critical component for historic restoration contractors to return a property to its original state. What makes this process tricky is the delicate balancing act between using durable construction materials and state-of-the-art technology or processes in creating a final product that maintains the historical integrity of the property.
This is where the Renaissance in-house copper studio provides our skilled tradespeople the support, tools, and resources to use their craftsmanship in service of once-in-a-lifetime restoration projects that also provide lifelong skills and experiences our specialists can own and use in other restoration disciplines.
To better understand the value of our copper studio, let's look at the capabilities it provides, and how the Renaissance in-house copper studio helps empower our restoration teams to execute the highest quality restoration more efficiently and with superior quality.
What does the renaissance in-house copper studio do?
The Renaissance copper studio is our on-site custom fabrication shop that helps our technicians produce and finish a variety of structural or roofing architectural sheet metal and copper components commonly found in historic buildings.
Our in-house copper studio represents an over $1 million investment in state-of-the-art technology and building materials that allows our fabrication specialists to create both functional and decorative building features, such as:
Turrets
Domes
Steeples
Clock towers
Bell towers
Bay windows
Cupolas
Facades
Exterior and interior decorative ornaments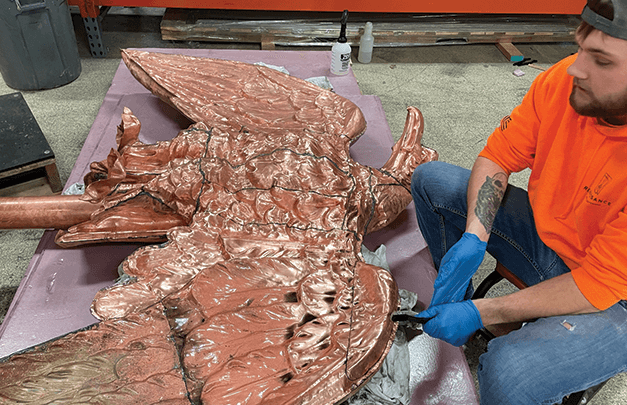 Aside from greater degrees of quality control and process oversight, our in-house copper studio helps our restoration teams reduce lead times and virtually eliminate the risk of supply chain disruption that is common with outsourcing the fabrication of custom, historic sheet metal components.
Plus, our fabrication infrastructure gives our technicians the ability to create and restore one-of-kind, detailed components that require a high degree of skill and experience. These kinds of pieces include collector boxes, statues, vents, louvers, metal roof flashings, and a host of other historic metal adornments.
The combination of cutting-edge metal fabrication equipment and superior craftsmanship of our sheet metal technicians creates a hands-on learning environment where each member of the architectural sheet metal team plays an important part in the fabrication process.
Renaissance sheet metal specialists also have a historic roofing restoration background to better understand how to fabricate custom sheet metal or copper pieces for a seamless installation, and to also help guide and educate other restoration team members on the role quality copper work plays in a historic restoration.
"I've learned multiple new skills and gained experience working with the machines and tools that produce the copper elements for various projects. And the biggest benefit of learning new skills from experienced craftsmen is that these skills will be used to create one-of-a-kind copper elements used on a historic building." – Renaissance Historic Restoration Specialist
What are the benefits of an in-house copper studio?
Perhaps one of the most important benefits of in-house architectural sheet metal and copper fabrication is the increased visibility and communication between the fabrication team and the other restoration teams assigned to a restoration project.
Outsourcing work to a fabrication shop can create barriers in effective communication and an increased likelihood that pieces are not fabricated to spec. Plus, working with a third-party shop can also result in longer lead times or the potential for delays in restoration due to disruptions in the outside shop's supply chain.
In-house architectural sheet metal fabrication and copper work not only makes for easier and more efficient project management to ensure phases of a historic restoration are completed on time and within a defined budget, but having the end-to-end fabrication process under our roof provides more flexibility to adapt to changes in the scale or scope of a project.
Plus, in-house copper work and custom sheet metal fabrication promotes a more team-oriented environment that empowers our restoration specialists to take on new challenges or acquire and hone new skills. These opportunities help accelerate the career paths of our restoration specialists and foster a sense of pride from using superior craftsmanship to restore historic properties in a positive, productive work environment.
"As part of our in-house copper studio team, I've learned from and worked with some great people both in the studio and in the field. The level of teamwork here goes a long way in helping everyone to improve their skills and grow their abilities." – Renaissance Historic Restoration Specialist
The caliber of work produced by our in-house copper studio has earned Renaissance a variety of recognition and awards, most recently the 2022 North American Copper Architecture Award (NACIA) for a copper dome restoration on the Mississippi County Courthouse in Osceola, Arkansas.
Plus, our nationally-recognized safety program helps ensure a safe working environment that not only protects our restoration specialists, but also safeguards the structures we are restoring from costly accidents.
Are you ready to join the Renaissance team? We're hiring for a variety of positions that help you put your craftsmanship to work on a wide range of once-in-a-lifetime projects. Learn more about our career opportunities and how you can play a part in restoring historic structures.