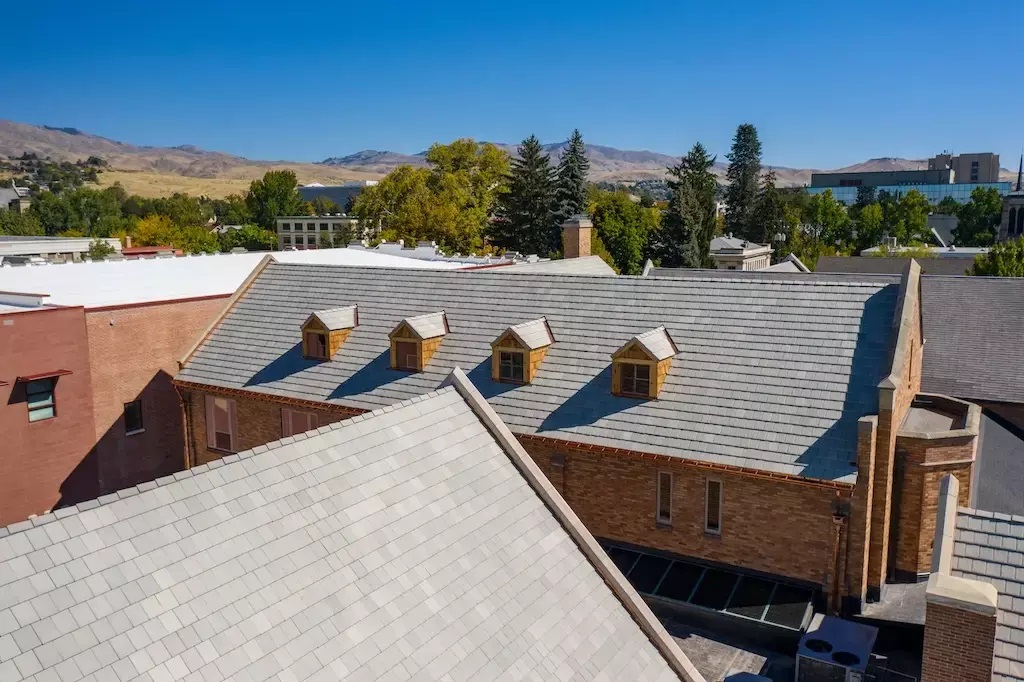 Renaissance Historic Exteriors was recently recognized for the Ludowici 2021 Project of the Year Award for our roof restoration work on the First Presbyterian Church in Boise, Idaho.
The award was presented in the Religious Structure project category which featured entrants from across the country. The Ludowici Project of the Year Award is presented annually for the project — residential, commercial, educational, new construction, renovation, and more — that best demonstrates how Ludowici products can help create historically accurate and high-quality renovations.
For this project, our team of restoration specialists — which we're currently looking to grow —consulted with the church representatives and Ludowici to find a lightweight product with the historically accurate color pallet. Ludowici's LudoSlate is a lightweight interlocking terra cotta tile featuring the chiseled edges and texture of natural slate. The product is available in twelve standard slate colors but can be customized with additional color blends.
The First Presbyterian Church restoration project is a prime example of how our careful, detail-oriented processes help produce a restoration that will last for decades to come. Through our Magellan Building Assessment, our restoration specialists evaluate and provide recommendations on the necessary renovation work, and our seven step Monarch Elite Process keeps clients informed each step of the way and helps ensure the project is completed with the utmost historical integrity and care.
Our expert restoration specialists offer decades of combined experience in the historic restoration field in a variety of unique applications including architectural sheet metal, historic carpentry, gutters, and downspouts, and more. Pairing old-world craftsmanship with state-of-the-art technologies and products allows our technicians to restore historical structures to their original condition with the durability to last for future generation.
With the demand for renovation services on the rise, our restoration team is expanding to offer hardworking, dedicated individuals with rewarding career opportunities as part of a nationally recognized leader in historic restoration and roofing.
Our team, with over 150 combined years of experience, completed award-winning projects on a nationwide scale including churches, universities, government buildings, libraries, private estates, and other properties on the National Register of Historic Places.
Bringing your craftsmanship and desire to succeed to the Renaissance team can take your career to new — and historic — heights.
Learn more about our career opportunities and how you can join the Renaissance Historic Exteriors team today.