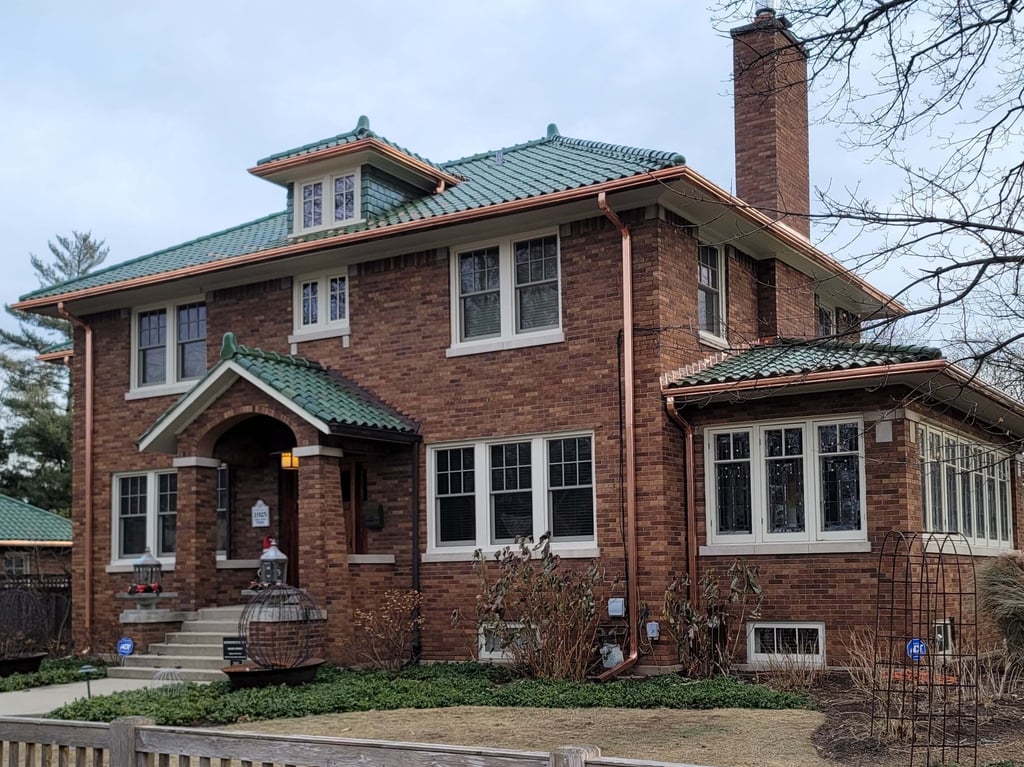 A Chicagoland homeowner was awarded the prestigious Restoration of the Year Award by the Glen Ellyn Historic Preservation Commission for a Ludowici clay roof restoration that Renaissance Historic Exteriors completed in early 2020 to maintain the integrity and significance of the private residence.
The historic 1925 Spanish colonial home sustained significant hail damage to the roof during a storm. After nearly a year of fruitless negotiations between the homeowner's insurance provider and another private contractor — one who engages a homeowner directly following a storm, and who is commonly referred to as a "storm chaser" — the homeowner contacted Renaissance to help overcome two key challenges:
First, effectively communicating and working with the homeowner's insurance adjuster to help them understand the scope of and reason for the proposed restoration work
Second, the ability to work within the confines of the agreed upon insurance claim payout and create a transparent, easy to understand project plan for a historically accurate renovation that stayed within the homeowner's budget

Using the principles of our Magellan Building Assessment and Monarch Elite Process, we mapped out a project plan for a complete roof system restoration centered on the removal and reinstallation of Ludowici Brookeville Green Spanish clay tiles; in addition, new Ludowici clay tiles were also used to supplement existing tiles that did not require complete removal.
Because of the severity of hail damage, the plan also called for a total replacement of copper gutters and downspouts, copper snowguards, the installation of two new skylights, and the replacement of gutters and downspouts on the garage.
The suburban Chicago home was designated for potential inclusion on the National Register of Historic Homes in 2014. To maintain this designation, the complete roof restoration required state-of-the-art technology and processes combined with superior craftsmanship in such specialty areas as roofing, masonry, carpentry, downspouts and gutters, and clay and copper tile.
Our dedication to historically accurate restorations not only returned the Ludowici Spanish tiles,gutters, and downspouts to their original glory, but our expertise and attention to detail also resulted in the seamless integration of the two new skylights without sacrificing any of the home's original architectural flourishes.
The project resulted in a complete roof restoration that maintains original design features common to homes in the early 20th century, coupled with today's durable materials and modern installation processes to create a roof system designed to last for 80 years or more.
Our emphasis on communication and transparency with the homeowner helped ensure a smooth restoration that was completed on time, and our commitment to quality garnered recognition from the Glen Ellyn Historic Preservation Commission and the community at large as a model for retaining the historic architecture of Chicagoland's most beloved towns and villages.
Contact us today to learn more about how we can help with your historic restoration needs.