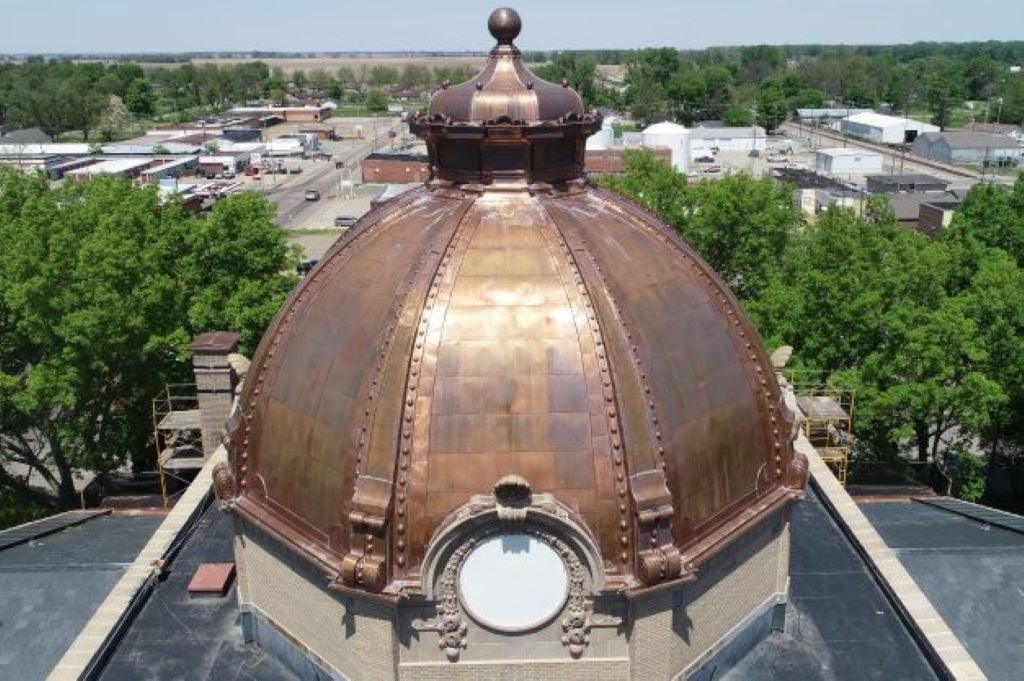 Renaissance Historic Exteriors was recently recognized by the Copper Development Association with a 2022 North American Copper Architecture Award (NACIA) for a copper dome restoration on the Mississippi County Courthouse in Osceola, Arkansas.
The NACIA is presented annually for projects in North America and Canada that showcase superior craftsmanship and technique with copper in a variety of construction applications, including copper roofing systems. Renaissance's work on the Mississippi County Courthouse copper dome was just one of 11 projects recognized this year.
The winners were selected by a panel of judges based on the presence, use, and significance of copper in the project — eligible projects can either be historic restorations or modern, contemporary builds.
The Mississippi County Courthouse copper roof was originally constructed in 1912 and had sustained significant wear during its service life. As an architecturally relevant building in the community, great emphasis was placed on a restoration that combined state-of-the-art tools with old-world craftsmanship and attention to detail to return the copper roof to its original glory.
The Renaissance restoration team conducted an extensive evaluation of the dome using our Magellan Building Assessment program in order to identify the areas of greatest need, and the ideal tools and resources required for the job. Then, our restoration specialists put together a detailed, transparent restoration plan via our Monarch Elite Process to ensure a historically accurate copper roof restoration of superior quality.
The resources, technology, and expert restoration skill of our Architectural Sheet Metal team allowed us to complete a meticulous, custom restoration that preserved the copper dome's detailed architectural flourishes. Plus, the new roof system features modern, cutting-edge processes that will help the dome last for generations.
Our Architectural Sheet Metal services include our in-house copper studio, which gives our specialists the ability to quickly and efficiently reproduce historically-accurate sheet metal components. Our sheet metal technicians have years of combined experience in the fabrication of architectural sheet metal, and they also have the knowledge and experience to successfully install these elements in a variety of applications, including:
Domes
Turrets
Steeples
Clock towers
Bell towers
Bay windows
Cupolas
Facades
In addition to the Mississippi County Courthouse, our Architectural Sheet Metal team has completed similar restorations on historic buildings and homes across the country — each with the same level of dedication and commitment to structural integrity and historical accuracy.
Contact us to learn more about our historic restoration services, and how our specialists can help you get your project off the ground.