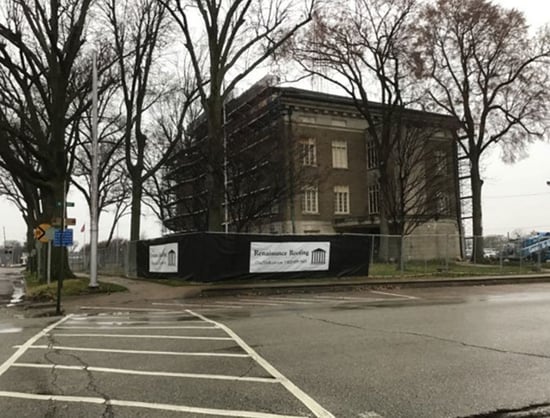 Not to brag, ok maybe a little, but we have the coolest projects. The unmatched craftsmanship, skill, talent, and artistry that we put into every job can be seen across the United States. One such project is the Mississippi County Courthouse located in Blytheville, Arkansas, where Renaissance Roofing will be replacing the Ludowici clay tile roof, custom copper gutters and copper downspouts.
When it comes to historic restorations, great detail goes into authenticity and preservation of the building and its components. It would be easy to leave safety in the dust, especially when so much attention is being paid to giving the customer a perfect product. I have not found that to be the case in Blytheville.
Historic buildings have so much detail in them. The builders were true artists, sculptors, and visionaries. Buildings had curves, body, and personality. Which sometimes makes setting up scaffolding difficult, and we must even alter some of our standard work practices to ensure we protect the building. Our crew was 100% safety focused from the beginning of the project, way before the first scaffolding frame was set. I believe that communication is a key component of a good safety culture. Our crews are able to bring up safety concerns and we will work together to find the best solution(s). The guys in Blytheville showed incredible forethought, finding solutions early so that when the project started, we were ready to go.
One of the obstacles that faced us at the Mississippi County Courthouse was the shape of the building itself. Anyone can set up scaffolding in a square. The courthouse has wings, annexes, and upper levels not on the same plane as the lower sections. Truly a stunning example of historic Blytheville. The scaffolding design had to be very carefully planned, and even as it was built, time was taken to adjust and address the safety of the crew.
A few of the other concerns that we addressed were site security, demolition/debris removal, and emergency response. The further away a job is from home, the more planning and communication must occur, and in a timely manner. As the project progresses, new safety issues are addressed. But if we continue to work together to solve them quickly and effectively, this is going to be a great project and a true testament to everyone at Renaissance Roofing and our commitment to safety to all of our crews, our clients and the community, no matter how far from home!