Since the fall of 2016, Renaissance Roofing has been hard at work restoring the historic roof at the Cascade County Courthouse in Great Falls, Montana. Much of the project involves the remanufacture and installation of the ornate copper metalwork on the 115-year old, three-story English Renaissance Revival structure.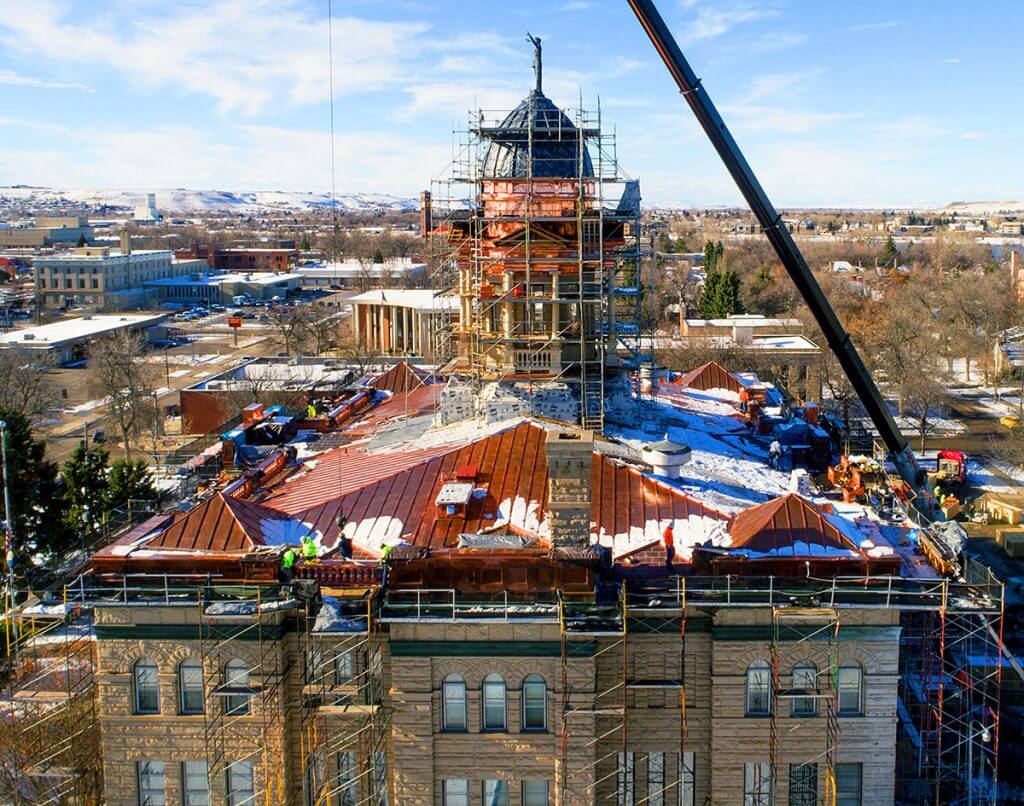 Last week, a news crew from local station KFBB captured the final steps in installation of new copper balusters.
Cascade County Commissioner Jane Weber was interviewed, and expressed confidence in the progress of the project, saying, "we expect this roof to easily last 85 to 100 years. We have a lot of critical things inside this building… beautiful architecture we're going to be protecting for another 100 years."
Completion of the project is expected in early 2018, and will include restoration of the centerpiece of the structure – the striking copper dome which rests on a series of supporting columns.
Restoration of the copper dome and roof at the 115-year old courthouse is Cascade County, Montana is nearing completion, and residents are enjoying the beautiful new skyline as sunny weather returns.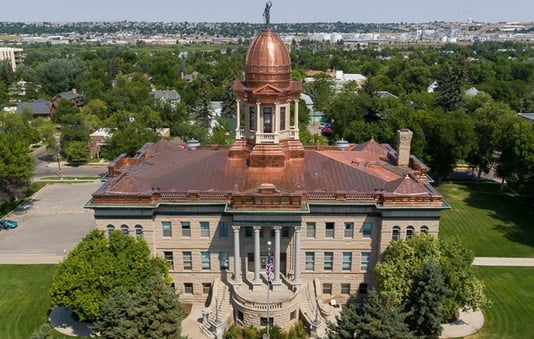 Great Falls Tribune Photograph courtesy of Linda Bingemann.
As reported in the Great Falls Tribune, the project is expected to wrap up this April despite weather challenges over the last six weeks. The crew from Renaissance Roofing has been working on site for nearly two years, and is pleased to finally see the results of their craftsmanship. Project Manager Lon Gorsch said, "The guys are very proud of their work. They're happy with how it's turning out. The weather has been really rough… it was very difficult to work up there."
The courthouse was built in 1903, and a 1913 article in the same Great Falls Tribune noted that "The Cascade County Courthouse has been the pride of the taxpayers and has caused much favorable comment from visitors." Today, community leaders are happy that the historic structure will have a roofing system that will protect it for the next 85 to 100 years. Cascade County Commissioner Jane Weber said the project is coming in on time and within the original $4.3M budget.
Weber praised the Renaissance Roofing crew as respectful of the historic building. "They were very careful," she said. "As they lifted balusters with a crane, they didn't knick anything. They also recreated historic elements, such as interlocking panels designed to prevent water leakage. It is fabulous, and it's good value in the long run," Weber said.